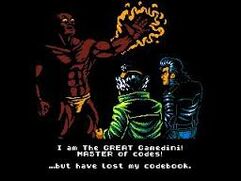 Overview
Edit
The Great Gamedini is a supporting character in Retro City Rampage. He helps the Player and Doc Choc locate repair parts. In return, Player must go to the Impossible Tower to get Gamedini's lost cheat codes back.
Appearance
Edit
The Great Gamedini is a man that suffers from a disorder called Meat-Boyitis, and has no skin. He wears nothing but a loincloth.
His name is a reference to the Game Genie cheat device.
His name is also a reference to the famous escapist Harry Houdini.
His disorder is a reference to Meat Boy, who is just a block of meat with no skin.