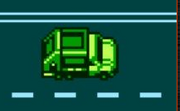 The Trash Truck is a car in Retro City Rampage.
Apearance
Edit
The Trash Truck seems to be a stereotypical unmarked garbage truck. It always spawns green.
Performance
Edit
The Trash Truck is very slow, but can take out almost anything. Like with the Dysentruck, Player can throw people or other objects into the compactor located in the rear, but it serves as nothing more than to add points.